Beach Resorts' Contribution to the Triple Bottom Line: Economic, Environmental, and Social
Keywords:
Hospitality management, triple bottom line, beach resort operations, blended research, Anda, Bohol, Philippines
Abstract
This investigation utilized the blended method of research using researcher-designed survey tools. This study was conducted in Anda, Bohol. Using the random sampling technique, sixty respondents provided information on the contribution of the operation of the beach resorts. The study also had nine informants interviewed on the challenges encountered by the beach resorts' operations in their locality. For the analysis of quantitative data, frequency count, percentage, weighted mean, and thematic analysis for qualitative data. The operation of beach resorts had a high contribution towards economic growth and social development and a moderate contribution towards environmental protection. Lastly, challenges encountered by the stakeholders in the operations of beach resorts in terms of ensuring economic growth were Poor Service Quality, Decreases Guests' Loyalty, Lack of Transparency in Financial Report, Local Guest Outnumber Foreign Visitors, Marketing Disadvantage due to Inaccessible Location, Unstable Employment, Failure to Comply Legal Obligations and Fishing Ban. In contrast, the challenges in attaining social development were Negative Intercultural Adaptation, Culture and Heritage Disturbance, Inequalities of Resources, Lack of Community Involvement, and Low Public Health Protection. Further, the challenges in ascertaining environmental protection of the beach resorts' existence in the locality were Weak Environmental Monitoring and Enforcement, Rejecting Environmental Policy, Additional Burden, Minimizes Financial Growth Opportunities and Excessive Fees Discourages Tourists from Return. The beach resorts in the rural location were fully compliant with the proper solid waste management since there are standard operating procedures that they need to perform to ensure customer satisfaction.
References
Baker, C. (2016). A welcome sign: Hotels adopt reuse and recycling. Waste Management World. Retrieved on September 8, 2006 from https://bit.ly/3b1uGdn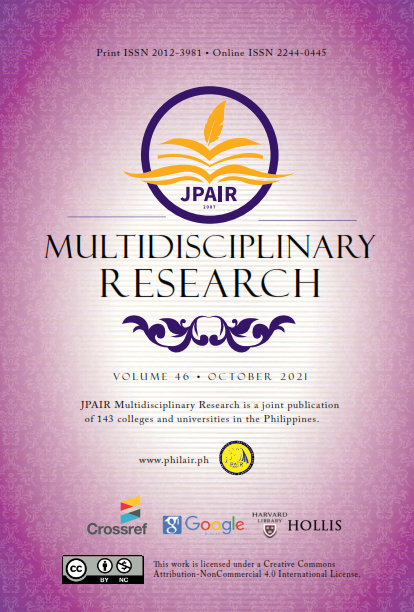 Downloads
How to Cite
Cano, J., Gimena, J. A., Micabalo, K., Padillo, E., Siaton, A. G., & Ramasola, A. (2021). Beach Resorts' Contribution to the Triple Bottom Line: Economic, Environmental, and Social . JPAIR Multidisciplinary Research, 46(1), 130–163. https://doi.org/10.7719/jpair.v46i1.455
License
Copyright (c) 2021 Jesszon B. Cano, Judy Ann F. Gimena, Kingie G. Micabalo, Elisheba S. Padillo, Amabella Grace N. Siaton, Arlinda N. Ramasola
This work is licensed under a Creative Commons Attribution-NonCommercial 4.0 International License.