Implementation of Solid Water and Waste Water Management of Beach Resorts in Anda, Bohol, Philippines
Keywords:
Hospitality management, sustainable tourism, beach resort operations, descriptive-correlational research, Anda, Bohol, Philippines
Abstract
Resorts operation in developing economies has provided a visible contribution towards improving the economy through tourists' spending and countless social transformation. However, in any economic growth, environmental integrity has always been compromised by its future viability. This study aims to determine the extent of the implementation of solid waste and wastewater management and the contribution of the beach resort. The findings of this study served as a basis for devising an environment-friendly model for beach resorts. This investigation utilized the descriptive-correlational method of research with the use of researcher-designed survey tools. This study was conducted in Anda, Bohol. Using the purposive sampling technique, twenty respondents provided information on their demographic profile and the extent of solid waste and wastewater management implementation in the beach resorts. Frequency count and percentage, weighted mean, chi-square test of independence were computed. More respondents belonged to the 40 & above age range, and the majority were females, single, college graduates, and worked as general managers of the beach resorts. The solid waste management of waste minimization and waste reuse was moderately implemented, while wastewater management was highly implemented.
Downloads
Download data is not yet available.
References
Arnaldo, M. S. (2021). DENR closes Alona Beach on coliform contamination. Business Mirror. Retrieved on November 27, 2021 from https://bit.ly/3CWhgwK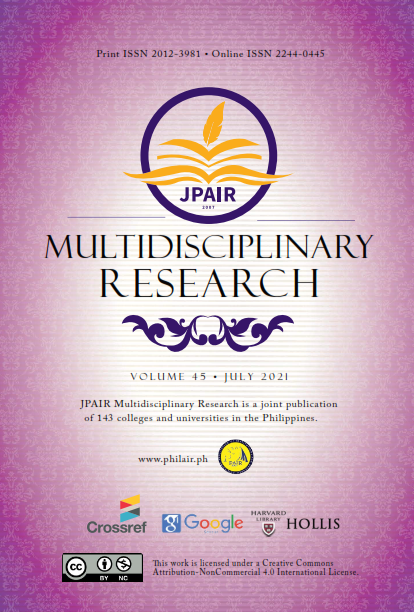 Downloads
How to Cite
Cano, J., Ramasola, A., Gucor, M. A., Olaso, L., Lim, D., & Micabalo, K. (2021). Implementation of Solid Water and Waste Water Management of Beach Resorts in Anda, Bohol, Philippines. JPAIR Multidisciplinary Research, 45(1), 177–202. https://doi.org/10.7719/jpair.v45i1.693
License
Copyright (c) 2021 Jesszon B. Cano, Arlinda N. Ramasola, May Amor D. Gucor, Lilanie M. Olaso, Darwin A. Lim, Kingie G. Micabalo
This work is licensed under a Creative Commons Attribution-NonCommercial 4.0 International License.