Tourists' Satisfaction and Its' Challenges on Natural Attractions in a Rural Area
Keywords:
Business management, tourists' satisfaction, descriptive method, Philippines
Abstract
The tourism industry's impact on the Philippines' economy, the Department of Tourism, the Philippines' tourism's primary agency, has aggressively promoted the Philippines as a tourist destination with several promotional and marketing strategies. This study assessed the satisfaction of the tourists on different attributes in natural attractions. Two hundred thirty tourists took part in this study. The instruments are made up of three parts. Part 1 pertains to the respondents' profile, part 2 contains items on determining the tourists' satisfaction, and part 3 pertains to the guests' challenges. The gathered data were treated statistically using frequency, simple percentage, weighted mean, and rank. Tourists had expressed their satisfaction with the different factors they experienced. However, tourists also encountered some problems while visiting the tourist sites. The information on service quality gaps could help tourist destination managers diagnose where performance improvement can best be targeted. The management needs a relatively stable labor force to allow the internalization of service standards.
References
Ballantyne, R., Hughes, K., & Ritchie, B. W. (2009). Meeting the needs of tourists: the role and function of Australian visitor information centers. Journal of Travel & Tourism Marketing, 26(8), 778-794.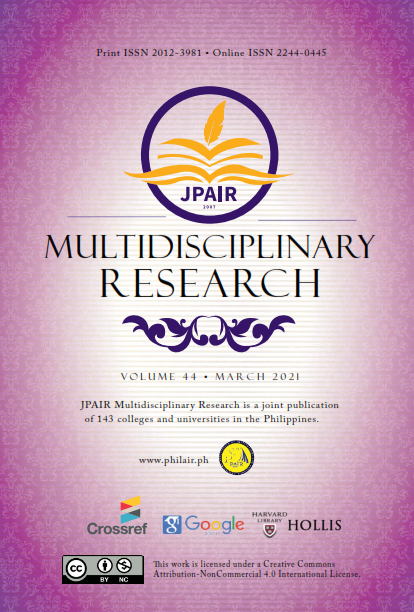 Downloads
How to Cite
Cano, J., Ramasola, A., Micabalo, K., Simangca, L., Gucor, M. A., & Olaso, L. (2021). Tourists' Satisfaction and Its' Challenges on Natural Attractions in a Rural Area. JPAIR Multidisciplinary Research, 44(1), 1–15. https://doi.org/10.7719/jpair.v44i1.660
License
Copyright (c) 2022 JPAIR Multidisciplinary Research
This work is licensed under a Creative Commons Attribution-NonCommercial 4.0 International License.