Exploring Self-efficacy, Research, and Teaching Skills among Undergraduate Thesis Advisers
Keywords:
Descriptive-correlational, education, research skills, self-efficacy, teaching skills, Philippines
Abstract
Research is now an active part of the academe. This descriptive-correlational study utilizing the purposive sampling technique was conducted to determine the level and relationships of self-efficacy, teaching skills, and research skills among the undergraduate thesis advisers of NIPSC-BVC. Using Hoy and Woolfolk's (1993) Teacher Efficacy Scale and Research Skills and Teaching Skills Assessment Instruments, data were collected. Mean, ANOVA, Pearson's r, and t-test were used in the analysis of data. Results revealed that the general teaching efficacy of the respondents is good while personal teaching efficacy is very good. The level of teaching skills of respondents' ages 40-49 and 11-20 years of teaching experience is excellent, while respondents' aged 20-39, 50 and above, with 0-10 and 21 or more years in service, possess the strong ability. Results also showed that agriculture thesis advisers have strong teaching skills while education respondents are excellent. A significant correlation was observed between respondents' general teaching efficacy and teaching skills, research and teaching skills, and general teaching efficacy and research skills. The respondents' level of general teaching efficacy, when grouped according to age and teaching skills according to the department, showed a significant difference. Based on the results of the study, instructional and research capability-building activities that enhance the respondents' self-efficacy, research skills, and teaching skills were proposed and conducted.
References
Aloka, P. J., & Bojuwoye, O. (2013). Gender, age and teaching experiences differences in decision-making behaviours of members of selected Kenyan secondary school disciplinary panels. Retrieved from https://repository.uwc.ac.za/handle/10566/922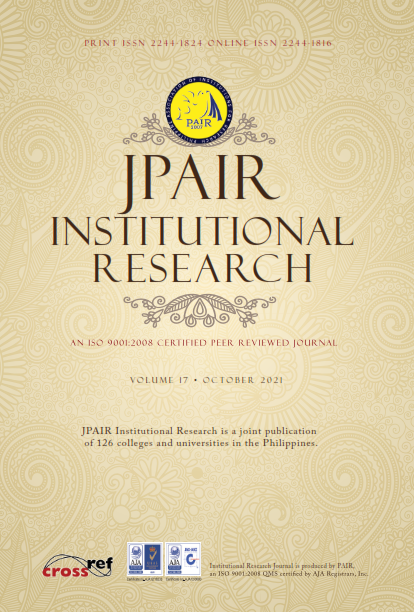 Downloads
How to Cite
Villena-Agreda, M. I. (2021). Exploring Self-efficacy, Research, and Teaching Skills among Undergraduate Thesis Advisers. JPAIR Institutional Research, 17(1), 43–59. https://doi.org/10.7719/irj.v17i1.751
License
Copyright (c) 2022 JPAIR Institutional Research
This work is licensed under a Creative Commons Attribution-ShareAlike 4.0 International License.