Unraveling the Lived Experiences of the English Language Teachers in the New Normal: A Phenomenology
Keywords:
Education, English language, Pedagogy, Qualitative study, Hermeneutic Phenomenology, Philippines
Abstract
The implementation of distance learning has provided new opportunities and challenges to English language teachers.  Commonly, the English language teachers aim to enhance the five language skills of each student: Listening, Speaking, Reading, Writing, and Viewing. However, the pandemic has affected the usual teaching methods, strategies, and techniques applied by English language teachers. Hence, this qualitative study aims to explore English language teachers' experiences on the transition of their English language pedagogy towards the new normal setup. A Hermeneutic Phenomenological design was utilized to describe and interpret the participants' responses. 15 English language teachers from selected private and public schools participated in the study. The following themes emerged from the Focus Group Discussion: Overcoming new challenges in teaching job; Altruistic act of teachers towards the second language learners; Technology as the main tool for teaching; Teachers acting more as guides than facilitators; Eclectic approach as the common method to teaching English in this new normal. These findings imply that English language teachers have redesigned their teaching strategies following the capabilities and needs of the students. Also, some activities have been modified to make them compatible with distance learning. The researchers suggest investigating the other factors that may help the English language learners to learn the English language during distance learning.
References
Alea, L. A., Fabrea, M. F., Roldan, R. D. A., & Farooqi, A. Z. (2020). Teachers' Covid-19 awareness, distance learning education experiences and perceptions towards institutional readiness and challenges. International Journal of Learning, Teaching and Educational Research, 19(6), 127-144. Retrieved from https://bit.ly/38CRNMV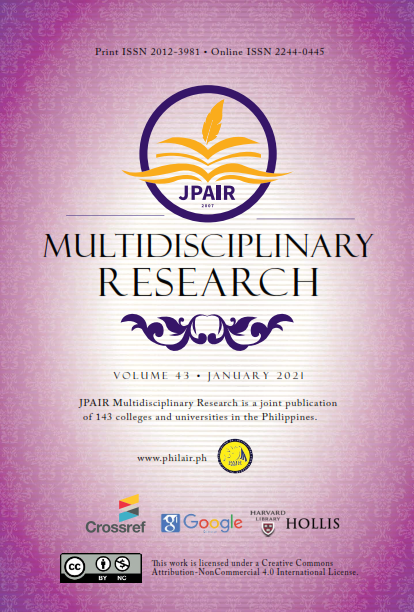 Downloads
How to Cite
Talampas, R. M., & Martinez, V. C. (2021). Unraveling the Lived Experiences of the English Language Teachers in the New Normal: A Phenomenology. JPAIR Multidisciplinary Research, 43(1), 57–85. https://doi.org/10.7719/jpair.v43i1.716
License
Copyright (c) 2021 JPAIR Multidisciplinary Research
This work is licensed under a Creative Commons Attribution-NonCommercial 4.0 International License.