Coping Mechanisms of Mainstreamed Learners
Keywords:
Social Science, mainstreamed learners, COVID-19, learners with disabilities, mixed-methods, Philippines
Abstract
The Corona Virus Disease (COVID)-19 pandemic caused the implementation of distance learning that deprived learners of regular school routines (oecd.org). This mixed-methods research evaluated the coping mechanisms of mainstreamed learners, the recommendations of the parents and learners, and the program that can be implemented to improve the implementation of mainstreaming learners with disabilities (LWDs). Results revealed that LWDs exhibited low avoidance and rebellious characteristics but high reconciliation and determination indicators. The focus group discussion verified the instructional-related challenges encountered. Mainstreamed students have a strong drive to cope with instructional-related challenges. To improve instructional issues, schools should contextualize lessons, especially in Mathematics. Video lessons should be available. The partnership between teachers and parents must be strengthened, and family support initiatives must be intensified. The researcher's framework, Rx Education for the Mainstreamed in Time of Pandemic, can be implemented, which involves Medical Assessment, Classhome Readiness, Creative Instruction, and Progress Monitoring. Conduct of annual medical assessments and regular monitoring by experts like Psychologists and Physical and Psychotherapists for the learners' well-being should be in place. The study's results suggest significant implications and references for educators and policymakers.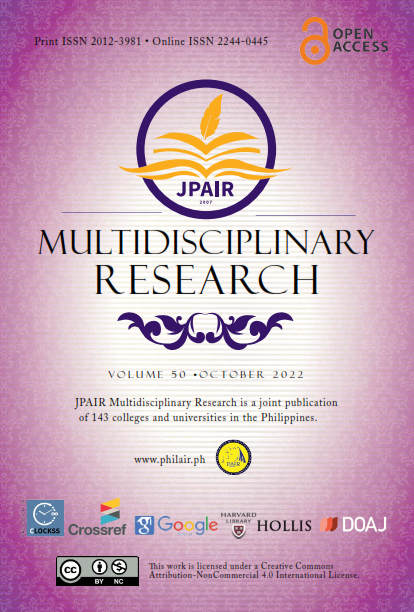 Downloads
How to Cite
Cruz, J. (2022). Coping Mechanisms of Mainstreamed Learners. JPAIR Multidisciplinary Research, 50(1), 67–84. https://doi.org/10.7719/jpair.v50i1.695
License
Copyright (c) 2022 Jeremy A. Cruz
This work is licensed under a Creative Commons Attribution-NonCommercial 4.0 International License.