Bullying Among Junior High School Students: Effects on Health and Academic Performance
Keywords:
Bullying, Junior High School Students, Mix Method Research Design, Philippines.
Abstract
Bullying and victimization phenomena have serious effects on the well-being of individuals. Therefore, the study intends to help the students maintain a normal state of well-being and enhance academic performance as a reference for administrators to develop programs managing the challenges encountered through identification of demographic profile; forms of bullying; effects on health and academic performance; coping strategies and school management. Mixed method approach was employed. Quantitative data was gathered through survey questionnaire and qualitative data through FGD from advisers, parents and students and KII from the principal, guidance counselor and prefect of discipline which were analyzed to corroborate with the quantitative data. Periodical grades were analyzed and compared. Findings revealed that out of 260 students, 232 expressed experienced bullying at a younger age as young as 10 years old. More alarmingly, some students reported recently experienced though rarely. The most common form of bullying identified are verbal, covert and physical bullying. Cyberbullying as the least experienced. The investigation disclosed they sometimes experience the health effects of bullying that are generally a normal response to stress. However, manage to deal with the experience through the support of family and the school. Data showed that students' experience of bullying does not affect their academic performance. Nevertheless, data analysis revealed that victims of bullying eventually become bullies themselves.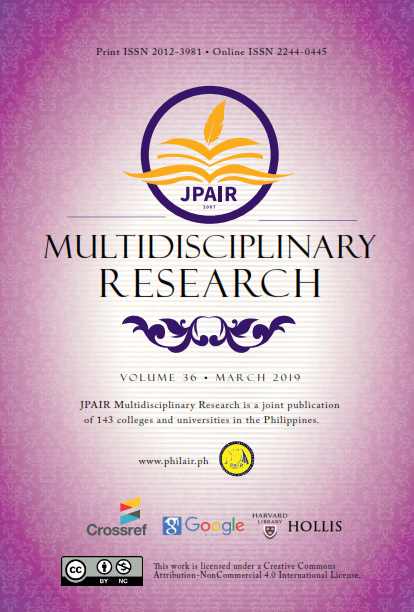 Downloads
How to Cite
Celeste, L. T., Bisnar, J. C., & Javier, I. V. (2019). Bullying Among Junior High School Students: Effects on Health and Academic Performance. JPAIR Multidisciplinary Research, 36(1), 226–240. https://doi.org/10.7719/jpair.v36i1.691
License
Copyright (c) 2019 JPAIR Multidisciplinary Research
This work is licensed under a Creative Commons Attribution-NonCommercial 4.0 International License.