Ethics of Recognition: The Struggles of Ilongga Overseas Filipino Workers (OFWs)
Keywords:
Social science, Axel Honneth's Theory on Struggles for Recognition of Ilongga OFWs, Qualitative-descriptive- Phenomenological Approach, Iloilo, Philippines
Abstract
This descriptive-qualitative-critical research aimed to appropriate Axel Honneth's theory in the Struggles for Recognition of the Ilongga Overseas Filipino Workers (OFWs) to understand the plight of the Overseas Filipino Workers (OFWs) particularly, the Filipina domestic helpers. This work was premised on the idea to help uplift their dignity by promoting their rights as empowered women in the Philippine society. The researcher argued that several Filipina domestic helpers had been victims of various forms of injustices such as sexual harassment, discrimination, and exploitation. Thus, the most that they can do is to struggle to recognize their rights and dignity as full-pledged members of the Philippine society. A phenomenological approach was employed, content analysis, researcher interview-guide-questionnaire, one-on-one personal interview through phone calls, messenger chats, and Focused Group Discussion (FGD) with OFWs were utilized. Three themes had emerged: Physical and psychological abuse, sexual harassment, and insecurity of financial stability. This paper recommended that the concerned government agencies provide concrete plans for Filipina OFWs in consonance with Republic Act No. 10022. These OFWs should be afforded training on livelihood skills and capital incentives and should be equipped with financial literacy through training and seminars to manage their hard-earned income properly.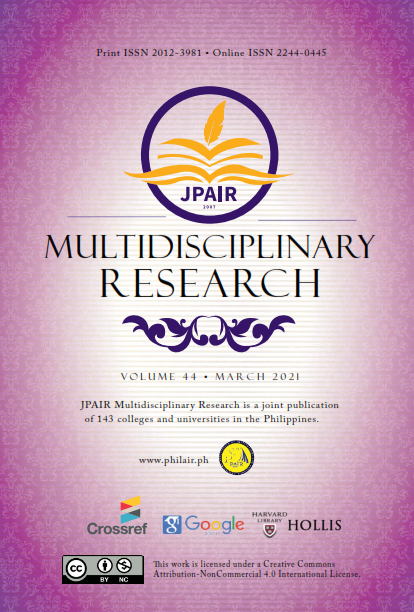 Downloads
How to Cite
Isidro, R. (2021). Ethics of Recognition: The Struggles of Ilongga Overseas Filipino Workers (OFWs). JPAIR Multidisciplinary Research, 44(1), 129–143. https://doi.org/10.7719/jpair.v44i1.598
License
Copyright (c) 2022 JPAIR Multidisciplinary Research
This work is licensed under a Creative Commons Attribution-NonCommercial 4.0 International License.