Behaviors, Cognitions, and Affects of Catholic School Students and Teachers on Capiz Aswang Phenomenon (C.A.P.)
Keywords:
Social Science, Capiz Aswang Phenomenon, descriptive qualitative design, Philippines/Asia
Abstract
It is alleged that Capiz has evolved to be the subject of many aswangs and other mythological ghosts, goblins, ghouls, manananggal and other monster stories. As views, opinions, and questions are ignored or receive a poor treatment - varying beliefs about the aswang phenomenon in Capiz will just lead to rising ignorance, persistent stereotyping, and deeper confusion that may continue to afflict Capiz and dehumanize Capisnon undeservedly. Hence, this study was conducted to probe the perception of Capisnon to the said phenomenon; elicit change in their conceptual, personal/social behaviors and dispositions vis-a-vis their practice of the Catholic faith. The research employed a descriptive qualitative design using a researcher-made questionnaire to a stratified sample of respondents.  Also, a Focus Group Discussion with non-probable sample from Dumarao's Tag-aw Ati Minority and the Guban-Tapaz Tribe Panayanon Bukidnon was conducted to enrich the data and inferences of the study. Results acknowledged that the past colonial masters are the reasons for wrongly imputing the word aswang to Capiz and Capisnon and the contemporary detractors who take Capiz Aswang Phenomenon or C.A.P. out of their proper historical and cultural contexts. With or without the presence of C.A.P., the ideal circumstances in upholding the real identity and self-worth of Capisnon are: a well-informed insight about the phenomenon, a conscious discernment of its history and real meaning, and a growing diligence in character to be good and to do good in the community.
References
Abalajon, N. V. B. (2008). The Evangelization of Capiz by the Spanish Missionaries (1566-1898): Towards a Historical Reconstruction (Doctoral dissertation, UST Faculty of Sacred Theology).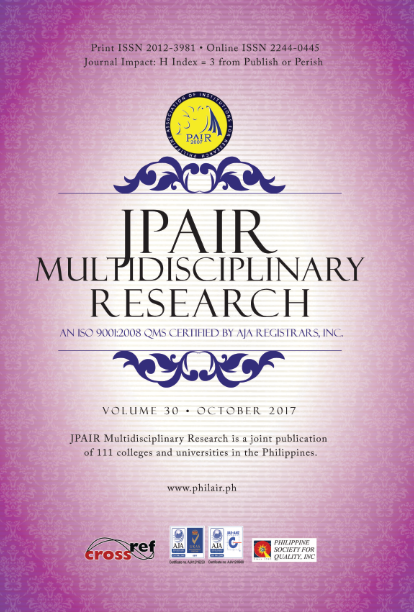 Downloads
How to Cite
Baes, R. F. G. B. (2018). Behaviors, Cognitions, and Affects of Catholic School Students and Teachers on Capiz Aswang Phenomenon (C.A.P.). JPAIR Multidisciplinary Research, 30(1), 58–87. https://doi.org/10.7719/jpair.v30i1.554
License
Copyright (c) 2017 JPAIR Multidisciplinary Research
This work is licensed under a Creative Commons Attribution-NonCommercial 4.0 International License.