Lived Experiences of the Graduate School Professors in Albay amidst Covid-19 Pandemic
Keywords:
Social Science, lived experiences, COVID-19, professors, descriptive survey, phenomenology research, Philippines
Abstract
Everyone affects by the COVID-19 pandemic. The pandemic would have a vastly different impact on each professor. This study aimed to analyze the lived experiences of graduate school professors in private higher education institutions in the second district of Albay and the challenges experienced during the Covid-19 pandemic. Primarily, this research investigated the experiences brought by the shift to different modes of delivery of education from the traditional face-to-face. This study used qualitative and quantitative research designs interview guide, and a survey questionnaire to obtain necessary data and information. The study found that the majority of professors encountered the same challenges encountered power interruption and low internet connection. The study concludes that the respondents can effectively manage their time and pace because of a new way of instruction on the use of the internet. In regards to and in line with the findings, the professors experienced more negative reactions about internet connectivity and technical difficulties, thus hindering them from fully benefiting from the new learning. Professors should be reflective and adaptable in terms of Instructional delivery, learning environment, time management, and student assessment. They may have had to learn how to use different technological tools through the internet and ensure that it can be delivered effectively online.
References
Adedoyin, O. B., & Soykan, E. (2020). Covid-19 pandemic and online learning: the challenges and opportunities. Interactive learning environments, 1-13.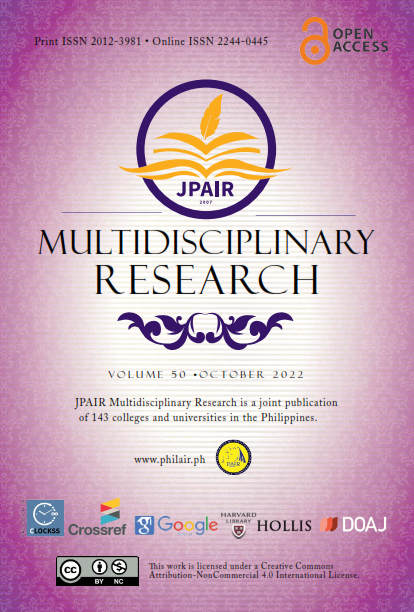 Downloads
How to Cite
Notario, J. (2022). Lived Experiences of the Graduate School Professors in Albay amidst Covid-19 Pandemic. JPAIR Multidisciplinary Research, 50(1), 179–198. https://doi.org/10.7719/jpair.v50i1.539
License
Copyright (c) 2022 Jeorge M. Notario
This work is licensed under a Creative Commons Attribution-NonCommercial 4.0 International License.