Climate Change Adaptation of the Hospitality Establishments in Southern Leyte, Philippines
Keywords:
Climate change, hospitality industry, sustainability correlation, Southern Leyte
Abstract
Knowing the current status of Southern Leyte as a "Provincial Beauty in the Philippines that's Travel Worthy" and vulnerable to hazards and risks; it is also expected to be on top in championing actions towards climate change adaptation and embracing sustainability. The study focuses on the viability of selected hospitality industry establishments in Southern Leyte towards climate change adaptation. Data collection utilized researcher-made survey questionnaire. Using descriptive-correlational method, managers and owners of 13 Department of Tourism (DOT) identified hospitality industry establishments along the coastlines of Maasin City and Saint Bernard Southern Leyte were surveyed through purposive sampling. The simple percentage, weighted mean, and chi-square were among the statistical tools utilized throughout the study. Most of the provinces in Eastern Visayas were in little risk to geophysical disasters except Southern Leyte and Northern Samar. The establishments were implementing some of the green practices on solid waste management and energy conservation under the international agreements and national laws. Economically and environmentally, majority of the establishments partially complied with the IEMSD program. Regarding the sustainability of the institutions based on the IEMSD, economically and ecologically, the facilities were slightly sustainable. It indicates that majority of the services calls for more actions to be durable and be able to adapt to climate change.
References
Asis-Dimpas, G., Sy, M.V.U, &. Ferrater-Gimena, J.A. O. (2015). Environmentally-directed organizational citizenship behavior of the municipal government officials in Cebu. IAMURE International Journal of Ecology & Conservation; Jul 2015, Vol. 15, p266. Retrieved from goo.gl/uMVnMz.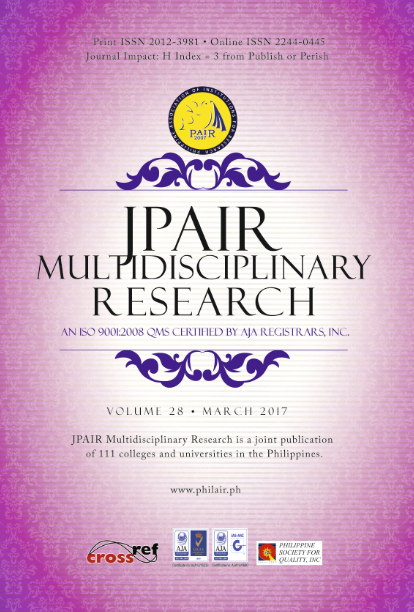 Downloads
How to Cite
Lopez, E. G., & Ferrater-Gimena, J. A. O. (2017). Climate Change Adaptation of the Hospitality Establishments in Southern Leyte, Philippines. JPAIR Multidisciplinary Research, 28(1), 89–109. https://doi.org/10.7719/jpair.v28i1.503
License
Copyright (c) 2017 JPAIR Multidisciplinary Research
This work is licensed under a Creative Commons Attribution-NonCommercial 4.0 International License.