Social and Economic Impact of the Colon Night Market to Small Scale Vendors
Keywords:
Colon Street, night market, small scale vendors, descriptive design, Cebu City, Philippines
Abstract
Colon is the oldest street in the Philippines.  It used to be the center of trade and commerce decades ago. The study aimed to determine the vendor demographics and the positive and adverse effects of the city government-organized Colon Night Market Program on the night market vendors in Cebu City, Philippines. Impact Value Chain and Social Return on Investment Method Analysis were used. Two survey questionnaires were prepared: one administered to the vendors that benefited the night market program, and another set was conducted to the customers. The results were validated by in-depth interviews. The study discovered that Muslim-Filipino vendors constituted the group of vendors with the highest proportion while the homegrown Cebuanos constituted the least number. The affirmative effects of the program were identified: better income and improved quality of life for the individuals, creation of more jobs, an offering of better deals and lower price, and the building of camaraderie among vendors. There were also a few negative issues identified. It was also discovered that there is $6.44 dollars for every one dollar invested by the government. It is recommended that the program is operated year-round to achieve a higher return on investment.
References
Briones, (June 2000) Calle Colon in Cebu, the Philippines' oldest street. Retrieved on April 17, 2016 from goo.gl/mK5BBt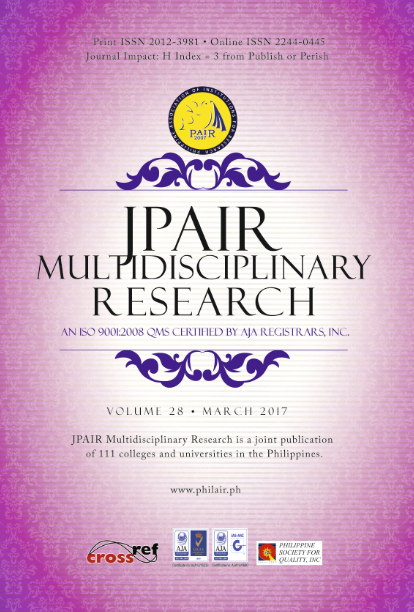 Downloads
How to Cite
Almaden, A., & Veloso, J. A. (2017). Social and Economic Impact of the Colon Night Market to Small Scale Vendors. JPAIR Multidisciplinary Research, 28(1), 59–71. https://doi.org/10.7719/jpair.v28i1.501
License
Copyright (c) 2017 JPAIR Multidisciplinary Research
This work is licensed under a Creative Commons Attribution-NonCommercial 4.0 International License.