Task-Based Approach as an Effective Tool in Developing Pragmatic Competence
Keywords:
Linguistics, pragmatic competence, pragmatics, task-based approach, task, experimental design, Compostela Valley, Philippines
Abstract
The challenge of realizing the value of pragmatic competence development in the current curriculum has been a long struggle in most language classes across the globe. This struggle initiated few researches from scholars on language learning who specifically explored the role classroom approaches in pragmatic development, but still less attention is given to these approaches. The study aimed to find out the relative effectiveness of task-based approach in developing the pragmatic competence of college students. It employed the experimental type of research called pretest-post-test non-equivalent group design. The respondents were the first year college students enrolled in a writing subject. The data were collected using a researcher-made pragmatic competence test anchored on Bowers, Huisingh, and LoGiudice's Pragmatic Tasks Framework (2005). Results showed that the experimental group after being taught with task-based approach improved their pragmatic task competence in making inferences, sequencing, decoding implied meaning, supplying appropriate maxims, considering politeness, summarizing, and providing solutions to language problems. It can be posited that tasks as center of language teaching would develop and enhance the language learners' pragmatic competence. The study recommends the use of task-based approach to innovate language instruction and enhance students' potentials in pragmatic development.
References
Bardovi-Harlig, Kathleen. (1999). Exploring the interlanguage of interlanguage pragmatics: A research agenda for acquisitional pragmatics. Language learning: A Journal of Research in Language Studies, Volume 49 (4) pg. 677-713. Retrieved on September 1, 2012, from https://goo.gl/DCJoOH.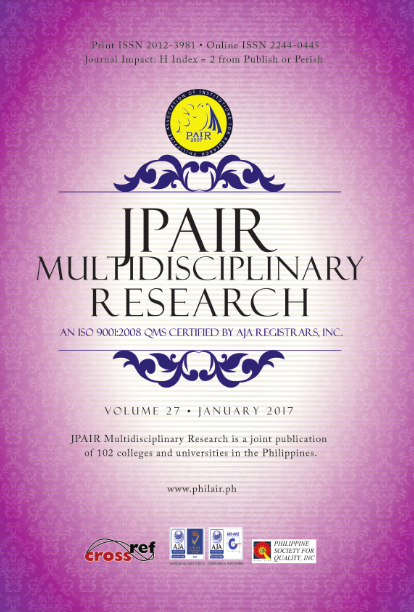 Downloads
How to Cite
Rayon, Jr., L. D. (2017). Task-Based Approach as an Effective Tool in Developing Pragmatic Competence. JPAIR Multidisciplinary Research, 27(1), 112–127. https://doi.org/10.7719/jpair.v27i1.461
License
Copyright (c) 2017 JPAIR Multidisciplinary Research
This work is licensed under a Creative Commons Attribution-NonCommercial 4.0 International License.