Color Enhancing, Center Spot, Rainbow and Star as Improvised Filters for DSLR Camera
Keywords:
Science and Technology, improvised camera lens filter, visual qualitative research, Philippines
Abstract
Camera lens filters are important in digital photography. More people have their personal DSLR cameras in their household. The study developed an improvised filters utilizing cheap materials that are available in the local outlet retailers. Once the materials are purchased, these filters can be prepared and done at home. Cutting and pasting are the skills needed to create the filter. The camera was operated in full manual mode so the photographer was able to control the photography. Visual quality of the shots were exhibited and evaluated. Evaluation of the filters was presented into three different areas of focus; (1) Rating as to color enhancing, center spot and rainbow filters; (2) Quality of the filter effects to the photography; and (3) Correct exposure, focus and clarity of the photos. Photography instructors and practitioners evaluated the outputs and presented their comments and suggestions. Improvised Color Enhancing, Center Spot and Rainbow Filters have a perfect rating in the expected result according to its purpose, good quality of effect and appropriate in exposure, focus, and clarity. The Star Filters were rated satisfactory because the best result can be achieved using one layer of the filter instead of two layers. The outputs are highly recommended improvised filters for DSLR camera.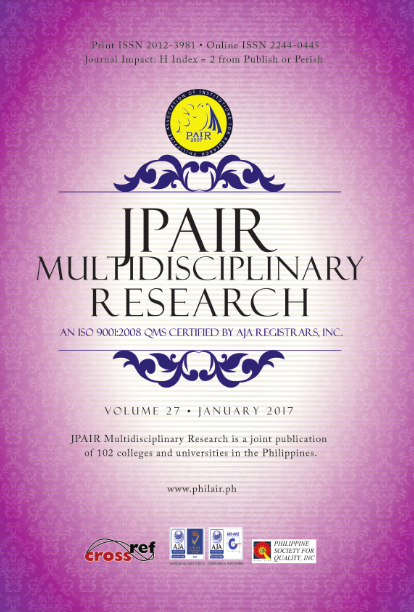 Downloads
How to Cite
Perlas, C. Z. Q. (2017). Color Enhancing, Center Spot, Rainbow and Star as Improvised Filters for DSLR Camera. JPAIR Multidisciplinary Research, 27(1), 47–97. https://doi.org/10.7719/jpair.v27i1.459
License
Copyright (c) 2017 JPAIR Multidisciplinary Research
This work is licensed under a Creative Commons Attribution-NonCommercial 4.0 International License.