Incidence of Tuberculosis in a Highly Urbanized City and Treatment Compliance to TB- DOTS Program
Keywords:
Public Health, tuberculosis, DOTS program, descriptive-correlational design, Talisay City, Philippines
Abstract
Tuberculosis imposes a stigma not only to the patient but also to the community. Treatment of this disease needs patience as it may require extended period of treatment regimen. If not treated, tuberculosis can be fatal which can cause Multiple Drug Resistance (MDR). This study aimed to determine the incidence of tuberculosis in a highly urbanized city and its treatment compliance to DOTS Program. Descriptive - correlational research design with follow-up interviews were taken to determine the respondents' profile and the incidence of tuberculosis cases as well as the compliance of TB patients to DOTS. Respondents were identified using purposive sampling design. The study utilized the quantitative method using simple percentage, mode, median and Pearson R to establish the relationship of the factors in the study. Results showed that the majority of the respondents were males and in the young adult group of age ranging from 15-25 years old. The incidence of tuberculosis is high in 2011 (2.92%) while the cases of TB in 2012 falls in the second rank with 50 cases (24.51%%). The incidence of TB decreased in 2008 (67%); and majority of the respondents were noted to be compliant to the prescribed treatment in the DOTS program. The study concludes that the incidence of tuberculosis cases is still increasing and uncontrolled, despite that the TB patients were compliant with the treatment regimen as implemented in the DOTS program of the Department of Health.
References
Assam, J. P. A., Beng, V. P., Cho-Ngwa, F., Toukam, M., Ngoh, A. A. I., Kitavi, M., ... & Skilton, R. A. (2013). Mycobacterium tuberculosis is the causative agent of tuberculosis in the southern ecological zones of Cameroon, as shown by genetic analysis. BMC infectious diseases, 13(1), 1. DOI: 10.1186/1471-2334-13-431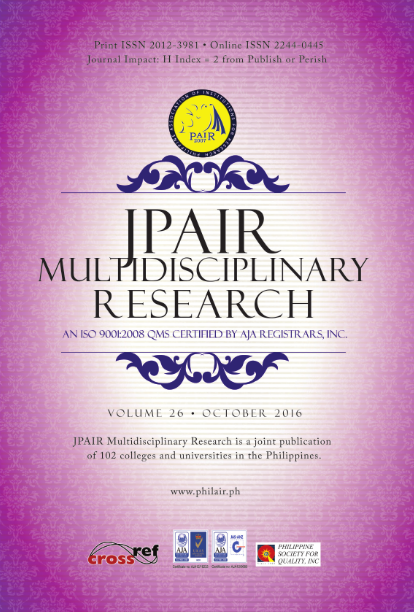 Downloads
How to Cite
Sta. Teresa, M. R.-., & Sagario, M. R.-. (2016). Incidence of Tuberculosis in a Highly Urbanized City and Treatment Compliance to TB- DOTS Program. JPAIR Multidisciplinary Research, 26(1), 1–15. https://doi.org/10.7719/jpair.v26i1.413
License
Copyright (c) 2016 JPAIR Multidisciplinary Research
This work is licensed under a Creative Commons Attribution-NonCommercial 4.0 International License.