Organizational Commitment and Effectiveness of a Holding Company for a Conglomerate in Cebu City
Keywords:
organizational commitment, organizational effectiveness, holding company conglomerate, quantitative study, Cebu City, Philippines
Abstract
The paper aimed to examine rank-and-file employees' organizational commitment and the effectiveness of a holding company by assessing the level of agreement of the dimensions and variables. A quantitative technique engaging a descriptive research method was used in the study. The study applied Slovin's formula, with 92 rank-and-file employees responding, and the data collected were analyzed using weighted mean and descriptive equivalents. The findings revealed that normative commitment has the most dominant dimensions perceived by the rank-and-file employees constituting the overall mean of organizational commitment with a descriptive match of 'agree.'  Additionally, teamwork and direct manager gained the top two highest average weighted mean with a descriptive equivalent of 'agree,' resulting in the core variables that constitute organizational effectiveness. The researchers concluded that normative commitment that has had the most direct impact on the holding company's organizational commitment had stimulated teamwork and a leadership style that has operated as a cultural scaffold for building strong competitive advantage and effectiveness. Over and above that, the study suggested that nurturing and sustaining activities that will bring to light the employees' shared vision and goals aligned with the organization will help buoy the level of the organization's moderate level into a high level of organizational commitment and effectiveness.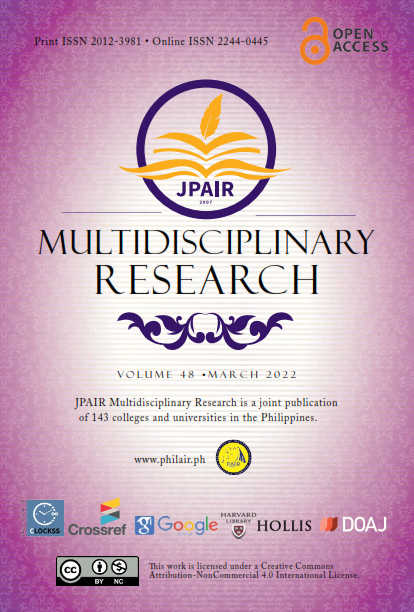 Downloads
How to Cite
Balonias, K. M., Polinar, M. A., & Delantar, A. F. (2022). Organizational Commitment and Effectiveness of a Holding Company for a Conglomerate in Cebu City. JPAIR Multidisciplinary Research, 48(1), 72–88. https://doi.org/10.7719/jpair.v48i1.404
License
Copyright (c) 2022 Krystel May R. Balonias, Mark Anthony N. Polinar, Alexander Franco A. Delantar
This work is licensed under a Creative Commons Attribution-NonCommercial 4.0 International License.