Issues and Challenges Faced by Persons with Disabilities in Basco, Batanes
Keywords:
Social Science, Issues, challenges, persons with disabilities, qualitative research, Basco, Batanes, Philippines
Abstract
Persons with disabilities (PWDs) are one of the concerns of society. But due to prejudice, they are put in a disadvantageous position. Since then, there have always been issues in employment, social roles, and accessibility to education. These have led to self-doubt and inferiority, resulting in negative attitudes from non-PWDs. The study aimed to explore the issues and challenges faced by persons with disabilities in Basco, Batanes, Philippines. This study used a qualitative research design. The researchers used purposive sampling and gathered data from eight (8) qualified participants. The researchers determined the issues and challenges they faced across the four areas of their lives. First, they face difficulties at work and looking for work because of their condition and the prejudice they receive in the work environment. Second, they faced problems in school due to poverty and discrimination from classmates. Third, they receive discrimination and stereotyping from their community. Lastly, the majority of the participants receive support from their families. However, they also faced financial problems, especially with their medication.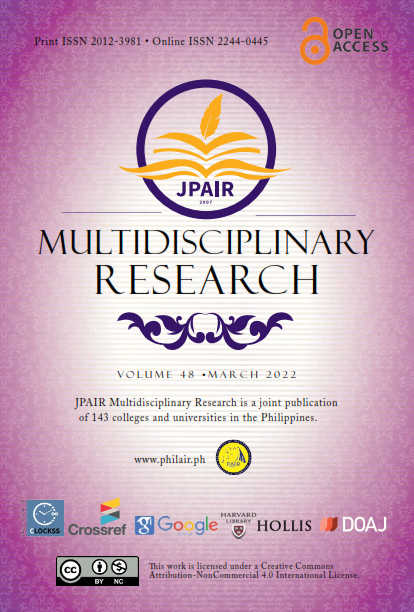 Downloads
How to Cite
Billote, W. J. S., Ponce, R., Ponce, T. E., Arca, J. M., Cabrito, M. K. C., Candel, C. J., Dasig, C., Gato, L. J., Regidor, I. N., & Zabala, V. J. (2022). Issues and Challenges Faced by Persons with Disabilities in Basco, Batanes. JPAIR Multidisciplinary Research, 48(1), 1–20. https://doi.org/10.7719/jpair.v48i1.401
License
Copyright (c) 2022 William Jo Se M. Billote, Ryan G. Ponce, Trixie Elaine G. Ponce, Julie Melanie Arca, Ma. Kimberly Christine D. Cabrito, Cristine Joy F. Candel, Charleth E. Dasig, Lyca Jade G. Gato, Ira Nicole Regidor, Victor Jacob P. Zabala
This work is licensed under a Creative Commons Attribution-NonCommercial 4.0 International License.