Creative Thinking and Anxiety among Adolescents
Keywords:
Social Science, anxiety, creative thinking, age, gender, adolescents, descriptive-correlational research, Batanes, Philippines
Abstract
Every person will come to experience what everyone perceives as the most challenging stage in life – adolescence. Most adolescents have different perspectives on life in this stage, and they experience many transitions. These transitions can naturally lead to anxiety. Experiencing anxiety is a normal part of adolescence. Excessive anxiety, however, frequently results in anxiety disorder. Individuals with this disorder often experience intense, excessive, and persistent worry and fear about everyday situations. Using a descriptive-correlational research design, this study aimed to determine the relationship between variables such as age and anxiety to creative thinking among 100 adolescents in a selected school in Batanes. The Creativity Styles Questionnaire (CSQ) was used to assess creative thinking and the Zung Self-Rating Anxiety Scale (SAS) for the respondents' anxiety. Results revealed the following: (1) There were no significant differences in anxiety between male and female adolescents; (2) A weak negative correlation between age and anxiety and; (3) A weak negative correlation between creative thinking and anxiety.
References
Adwas, A. A., Jbireal, J. M., & Azab, A. E. (2019). Anxiety: Insights into signs, symptoms, etiology, pathophysiology, and treatment. South African Journal of Medical Sciences, 2(10), 80-91. Retrieved from https://bit.ly/3mT2sty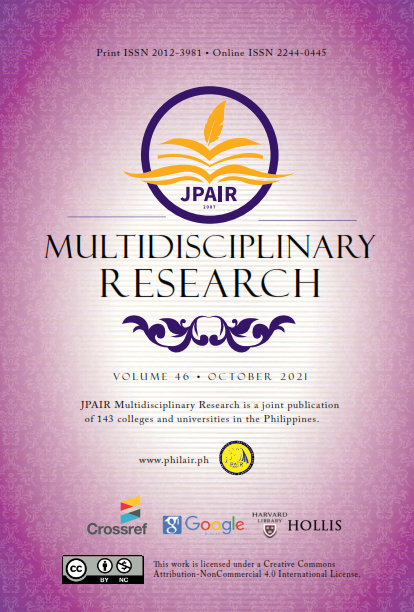 Downloads
How to Cite
Billote, W. J. S., Ponce, R., Ponce, T. E., Aguada, A. R., Bata, M. A., De Leon, M. N., Lizardo, A. S., Merina, K. F., Padios, M. L., & Viola, M. D. (2021). Creative Thinking and Anxiety among Adolescents. JPAIR Multidisciplinary Research, 46(1), 1–15. https://doi.org/10.7719/jpair.v46i1.399
License
Copyright (c) 2021 JPAIR Multidisciplinary Research
This work is licensed under a Creative Commons Attribution-NonCommercial 4.0 International License.