Development of Schedule Programming Assistant for Day Classes (SPADay) Version 1.0: Course Timetabling in Excel
Keywords:
Information technology, Excel-VBA computer programming, class-faculty or course timetabling, Microsoft Excel, applied research, Cebu City, Philippines
Abstract
Timetabling of class-faculty schedules is complex and lengthy wherein universities assign significant workforce and material resources each semester. Manual scheduling produces conflict schedules of class-faculty and room utilizations that in many instances are determined only when classes have already started. Timetabling problems in CTU are concerned with many students but limited organic faculty members. The objectives of this study were to automate: 1) consolidation of the tabulated schedules from the different departments and colleges; 2) detection of conflict faculty schedules; and 3) pictographic plotting of class-faculty schedules and room utilizations according to the formats adopted by the university with calculated number of contact hours and preparations.  The method adapts Visual Basic for Applications programming in Microsoft Excel. From the data of block schedules provided by different departments or colleges, conflict schedules are detected and modified by users. Once harmonized, plotting pictographically class-faculty schedules into program by teacher, program by section, and room utilization are automated. SPADay leads to immediate detection of conflict schedules of faculty members, checking of inconsistent information were implemented, speedy printing of outputs into different formats, and generation of class-faculty schedules database that can be adopted with minor revisions and fine-tuning of such schedules for proceeding semesters.
References
Avella, P., D'Auria, B., Salerno, S., & Vasil'Ev, I. (2007). A computational study of local search algorithms for Italian high-school timetabling. Journal of Heuristics, 13(6), 543-556. doi: 10.1007/s10732-007-9025-3.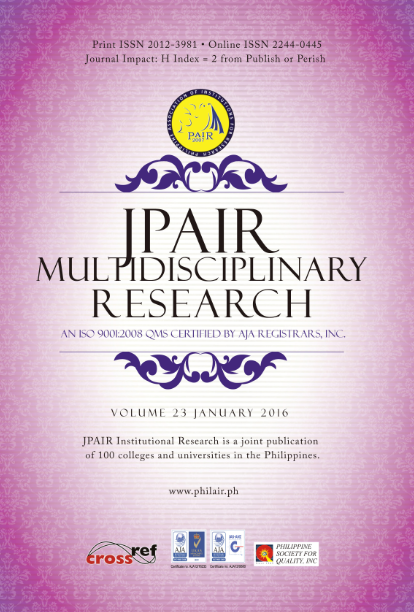 Downloads
How to Cite
Mondejar, J. P. (2016). Development of Schedule Programming Assistant for Day Classes (SPADay) Version 1.0: Course Timetabling in Excel. JPAIR Multidisciplinary Research, 23(1), 72–85. https://doi.org/10.7719/jpair.v23i1.354
License
Copyright (c) 2016 JPAIR Multidisciplinary Research
This work is licensed under a Creative Commons Attribution-NonCommercial 4.0 International License.