Work Management Style of the College Deans of SUCs in Region 8, Philippines
Keywords:
Education, management style of college deans, descriptive-correlational, Region 8, Philippines
Abstract
One success indicator of any educational institution depends on the type of management and its capabilities to drive the preplanned goals within the framework of time set forth. The study utilized the descriptive-correlational research design which aimed to determine the work management styles of the college deans of State Universities and Colleges (SUCs) in Region 8, Philippines. Using validated questionnaires, data were statistically treated using weighted mean, percentage and chi-square test of independence. Findings showed that female college deans who are doctorate degree holders, with higher number of years of experience and training attended were the perfectionist in managing their works. It also showed that the college deans' profile has no significant relationship with their work management style. The college deans with the higher number of programs offered were cliff hangers. If given the opportunity to experience more and attend training on leadership and management, perceived control of time, and stress responses, the college deans can play better in their role, functions, and responsibilities. The study contributes to the field of educational administration to create useful solutions in terms of leadership and management styles of college deans for them to be aware and become more productive and efficient leaders.
References
Al-Omari, A. A. (2005). Leadership styles and style adaptability of deans and department chairs at three public research universities. Washington State University.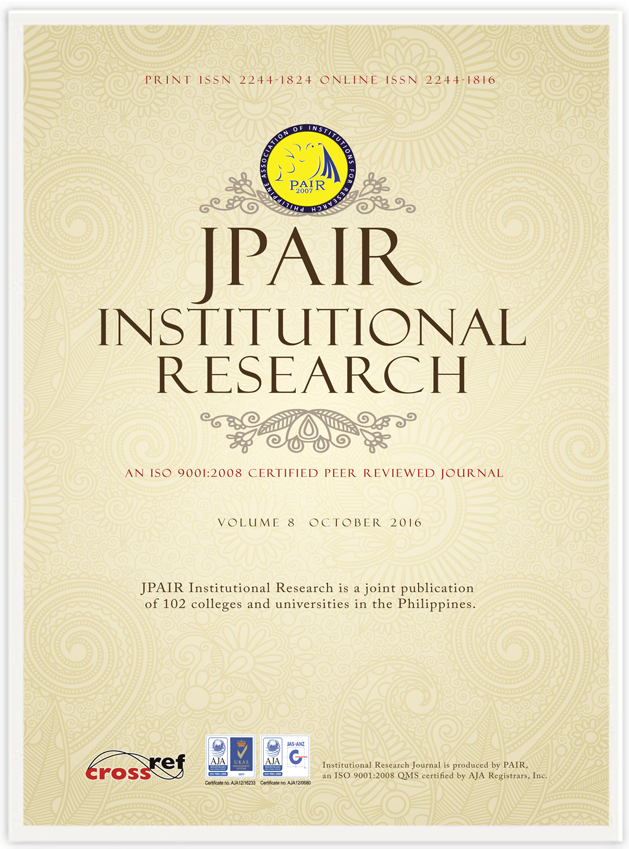 Downloads
How to Cite
Entoma, R. C. (2016). Work Management Style of the College Deans of SUCs in Region 8, Philippines. JPAIR Institutional Research, 8(1), 41–54. https://doi.org/10.7719/irj.v8i1.423
License
Copyright (c) 2016 Rolando C. Entoma
This work is licensed under a Creative Commons Attribution-NonCommercial 4.0 International License.