Realization of Master's Program Outcome in a Philippine University
Keywords:
Business Education, program outcomes, descriptive study, Cebu City, Philippines
Abstract
Program Outcomes speak to comprehensive explanations that consolidate numerous zones between related information and aptitudes created throughout the program through a broad scope of courses and encounters. This investigation assesses the realization of Masters in Business Administration Program Outcomes for the year 2019-2020 Alumni. The respondents to the inquiry were 70 utilizing descriptive survey methods as an examination instrument on snowball sampling. Frequency and simple percentage, weighted mean, and Chi-square Test of Independence had been used to summarize, analyze, and interpret the data. The findings revealed that Program outcomes, which apply theories and best practices in business and management as intrapreneurs/entrepreneurs and extending community services on business and management development, were less realized. The examination concluded that MBA understudies must have business management research-based guidelines that ought to be actualized and continued. Outcome-Based Teaching and Learning ought to be received to empower students to create aptitudes required in the course. Community services spreading business and management development should be adjusted each semester to guarantee maintainability in community vocation programs. The movement of mechanical ways to deal with overseeing, preparing, and learning demands is likewise a thing to improve in adapting to the new pattern and advancements of the money manager and business people.
References
Albert, J. R. G., & Raymundo, M. J. M. (2016). Why inequality matters in poverty reduction and why the middle class needs policy attention (No. 201555). PIDS Discussion Paper Series. Retrieved from https://www.econstor.eu/handle/10419/173521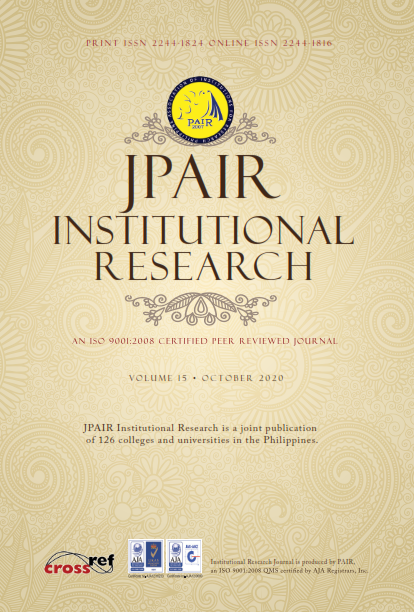 Downloads
How to Cite
Micabalo, K., Cano, J., Montilla, R., Tan, A. R., & Navarro, J. A. (2020). Realization of Master's Program Outcome in a Philippine University. JPAIR Institutional Research, 15(1), 1–19. https://doi.org/10.7719/irj.v15i1.809
License
Copyright (c) 2020 Kingie G. Micabalo, Jesszon B. Cano, Ryan D. Montilla, Arsenio Robert N. Tan, June Ace P. Navarro
This work is licensed under a Creative Commons Attribution-NonCommercial 4.0 International License.