The Veracity of Vote Buying: Perspectives of the Philippine Electoral System
Abstract
Vote-buying during election is a phenomenon in Philippine politics clandestinely practiced as underground activities by political candidates who utilize it as a political strategy. This study examined the vote buying phenomenon of the Philippines during periodic elections in the national and local levels. It utilized secondary data from various source agencies and published refereed journals on practices of fraud and vote buying which have crucially shape out election results and the electoral system of the country.  The findings suggest that Filipino traditional voters attribute vote buying to "patron-client relations" during elections where parity and justice are momentarily accomplished when political candidates carry out their obligations and lend supports with vested interests to their constituents. Operationally for many Filipino voters, vote buying is a tangible "gift" from aspiring candidates which influences their choice and produce instrumental compliance. This phenomenon underlying the patron-client ties manifests a two-fold bond of reciprocity and mutual obligation linking individuals of disproportionate social status and authority based on the exchange of money and votes. Those less educated and rural area residents are among the more vulnerable electoral groups to vote buying. The study concludes that vote buying as practiced in the Philippines has penetrated all levels of the bureaucracy. The veracity of vote-buying has become culturally intricate with fraud, intimidation and violent means to win the electoral race.
References
Callahan, W. A. (2005). The discourse of vote buying and political reform in Thailand. Pacific Affairs, 78(1), 95-113.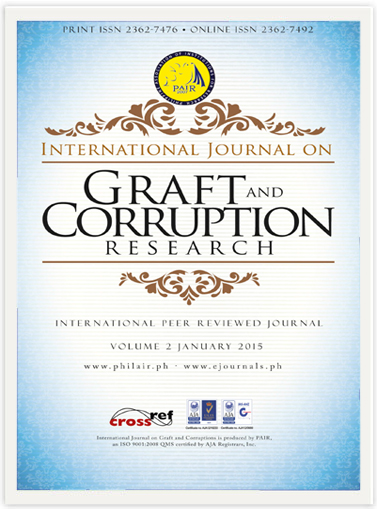 Downloads
How to Cite
Abocejo, F. T. (2015). The Veracity of Vote Buying: Perspectives of the Philippine Electoral System. International Journal on Graft and Corruption, 2(1), 36–45. https://doi.org/10.7719/ijgc.v2i1.301
License
Copyright (c) 2015 International Journal on Graft and Corruption Research
This work is licensed under a Creative Commons Attribution-ShareAlike 4.0 International License.